[image]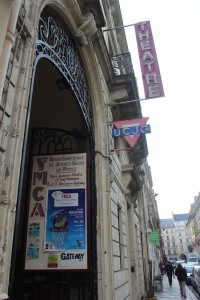 [/image]The Paris UCJG, a member of the UCJG-YMCAs
[list style= »style3″]
is principally a residence for young men -students and employees- aged 18 to 25
it also provides facilities for other associations and cultural activities
[/list]
The activities of the Paris UCJG, still taking place in the original 4000 sq m building it has occupied since its inauguration in 1893 -now a listed historical landmark, focus on two main areas :
[one_half]
The residence
For students and young workers, 48 beds
[list style= »style3″]
one of the few remaining private residences in the centre of Paris.
meets the strictest current safety standards
offers single or double rooms, no half board
shared facilities : fitted kitchen, sitting-room, library, computer room, etc
very reasonable prices, one of the cheapest in Paris
open throughout the summer to tourists or trainees at higher rates, by the night, week or month
[/list]
For more information : le foyer de l'UCJG de Paris
[/one_half][one_half_last]
The centre
A series of rooms, most of which can be rented by the year or for a special event (conference, reception, film shooting, etc)
[list style= »style3″]
a historical gymnasium, where basketball -which had been invented in the USA in 1893- was played in France for the first time in 1893

a theatre seating 270 – Théâtre Trévise, run by another association.

reception rooms, classrooms or offices of various sizes
of historical interest : one of the first indoor swimming-pools in Paris, now disused and out of order, a former bowling alley, and a gymnasium, which is still in use.
[/list]
For more details : Le centre
[/one_half_last]